Mario Raja Big Bang
The "MARIO RAJA BIG BANG" is an orchestra founded in February 1988 with the idea of bringing together some of the most important italian musicians of the new generation of the moment.
Since then BIG BANG has continued uninterrupted on business, becoming one of the most enduring jazz orchestras in the italian scene.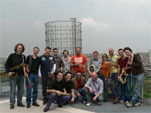 The original lineup included over the same Raja to saxophones Giancarlo Maurino, Maurizio Giammarco and Roberto Ottini. On trumpets Marco Tamburini, Flavio Boltro and Paolo Fresu. On trombones Danilo Terenzi and Roberto Rossi. The rhythm section Marco Marco, Enzo Pietropaoli, Danilo Rea and Roberto Gatto.

This orchestra recorded his first CD in '88 together with saxophone player Phil Woods: "Embraceable You" (Philology).

Initially influenced by the major american big bands, BIG BANG found after its own style, where writing has become more thin and stitched on the personalities of the musicians, to play with the spontaneity and freshness of a small group.

In '90 he participated with two songs (one of them along with singer Mango) to the CD "Ci ritorni in mente" (Gala Records), a series of re-reading of music by Lucio Battisti from major italian jazz musicians.

Meanwhile, the band has incorporated the bass player Piero Leveratto, saxophonist Pietro Tonolo and trumpeter player Giampaolo Casati.

In '94 he recorded the CD "Ellington" (Splasc(h), voted best disc by the magazine Musica e Dischi and the second best group by the magazine Musica Jazz.
On this occasion they entered in the orchestra the young Stefano Di Battista and Chiara Civello. The singer, at that time not yet eighteen, to replace the too busy Fresu.

In '97 still an exchange with Gavino Murgia, Gabriele Mirabassi and Maria Pia De Vito in place of Di Battista and Civello (in the meantime "migrants" in France and USA).

With this organic affect the orchestra recorded "Dodici Storie" (Splasc(h)-1997), a collection of twelve original compositions by Mario Raja, each of which is devoted to a musician in the band and is linked to a short story from which he took inspiration.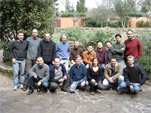 In 2000 band has recorded a program of orchestral readings of the music of Herbie Nichols (produced by the Teatro Metastasio di Prato) still waiting to be printed.

The BIG BANG hosted in concert Stefano D'Anna, Steve Grossman, Rita Marcotulli, Sal Nistico, Enrico Rava, Massimo Urbani. In the band were also Mimmo Cafiero, Mario Corvini, Marvi La Spina, Massimo Manzi, Paolo Mappa, Alfred Kramer, Hilaria Kramer, Lorenzo Tucci, Riccardo Zegna.

The MARIO RAJA BIG BANG is also the protagonist of an amazing story of the book "La retta via" di Domenico Starnone (Feltrinelli '97).

In 2005, almost all components of the original band met for some concerts (Villa Celimontana Jazz Festival, Casa del Jazz, Siena Jazz Festival) with the name REUNION BIG BANG, presenting a completely new program of original compositions for orchestra by Raja, Giammarco, Tonolo, Leveratto, Rea and Gatto.

In 2006, Mario Raja decided to found again the orchestra involving some of the most exciting new jazz talent of the Rome scene.

This orchestra is a kind of permanent workshop. Rehersing regularly and having an atypical lineup with an outstanding opera singer and two guitarists.
This band is working on a program of reinterpretation of the music of IGOR STRAVINSKY.

Here is the current lineup:

Margherita Pace voice
Mario Raja tenor sax , conducting, arrangement
Daniele Tittarelli alto, soprano sax
Carlo Conti alto sax, flute
Marcello Allulli tenor sax
Rossano Emili baritone sax , clarinet
Claudio Corvini trumpet, flugelhorn
Tiziano Ruggeri trumpet, flugelhorn
Antonello Sorrentino trumpet, flugelhorn
Tony Cattano trombone
Roberto Schiano trombone
Enrico Bracco guitar
Antonio Iasevoli guitar
Roberto Tarenzi piano
Stefano Nunzi bass
Armando Sciommeri drums

^ top